Visual Angle Media Wins Silver Telly Award In The 44th Telly Awards
VISUAL ANGLE MEDIA'S "Komori America Corporation - Client Testimonial Series" CAMPAIGN NAMED SILVER TELLY WINNER IN ONLINE COMMERCIAL B2B IN THE 44th ANNUAL TELLY AWARDS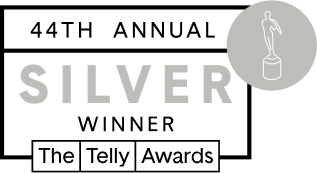 [Miami, FL] – June 5, 2023 – Visual Angle Media announced today its "Komori America Corporation - Client Testimonial Series" campaign has been named Silver Telly Winner in Online Commercial B2B in the record-breaking 44th Annual Telly Awards. The Telly Awards honors excellence in video and television across all screens and is judged by leaders from video platforms, television, streaming networks, and production companies including Adobe, BBC World Service, Netflix, Dow Jones, Complex Networks, Jennifer Garner, A&E Networks, Hearst Media, Nickelodeon, National Geographic Society, ESPN Films, RYOT, Partizan and Vimeo.
"Komori America Corporation - Client Testimonial Series" is a groundbreaking campaign, blending narrative storytelling with raw, human emotions to shine a light on the shared experiences that connect most Komori Presses owners. The production quality and powerful message demonstrate Visual Angle Media's dedication to pushing the boundaries of non-broadcast media content.
"The caliber of the work this season coming from creators such as Visual Angle Media truly has reflected the theme of breaking out and standing out," said Tellys Executive Director Sabrina Dridje. "Our industry is experimenting with new technologies like never before, crafting truly compelling stories to draw attention to some of the world's most pressing issues, and companies big and small are turning to more sustainable practices to break the cycle of past production processes."

Client Testimonial
Lance Martin - Vice President of Marketing for Komori America Corporation
Fabrizio Colombi, Founder of Visual Angle Media said, "We are honored and humbled by this recognition. This award signifies the efforts of our passionate and creative team who worked tirelessly to bring this project to life. Our goal was to tell compelling stories that resonate, inspire, and create a sense of connection, and this acknowledgment from the Telly Awards affirms that we're on the right track."
Today's winner's announcement caps a year-long celebration of creators and talent who truly stand out during a time when the ubiquity of screens brings more clutter than quality into our lives. These are the creators and innovators who spotlight diverse voices, who are building a more sustainable industry, and who break through the static with their creativity.
This was a record-breaking year with nearly 13,000 entries from across the globe and top video and television content producers such as Cut+Run, Netflix, Disney Parks, Media.Monks, Paramount, National Geographic Society, and the dynastic NBA team the Golden State Warriors.
The complete list of the 44th Annual Telly Awards winners can be found at www.tellyawards.com/winners.
About Visual Angle Media
Visual Angle Media is an award-winning, full-service video production company specializing in producing high-quality, story-driven content that connects with audiences on a profound level. They pride themselves on their unique visual storytelling capabilities, their technical excellence, and their commitment to showcasing diverse voices and perspectives.
Please contact Fabrizio Colombi for inquiries:
info@visualanglemedia.com or
call (786) 971-2402
Find The Telly Awards Online: Website: www.TellyAwards.com
Facebook: /TellyAwards
Twitter: @TellyAwards
Instagram: @TellyAwards
YouTube: /TellyAwards
About The Telly Awards
The Telly Awards is the premier award honoring video and television across all screens. Established in 1979, The Telly Awards receives over 12,000 entries from all 50 states and 5 continents. Entrants are judged by The Telly Awards Judging Council—an industry body of over 200 leading experts including advertising agencies, production companies, and major television networks, reflective of the multi-screen industry The Telly Awards celebrates.
---

With a lifelong passion for video that ignited at the young age of 10, Fabrizio has honed his skills in production and direction to mastery. His focus and love for visual storytelling now translate into empowering businesses with engaging videos. By creatively developing videos that resonate with audiences, Fabrizio facilitates growth and innovation for companies, turning his childhood fascination into a professional mission. His dedication to crafting compelling visuals is not merely a career; it's an extension of who he is.